Clark County Housing Market Update
(You won't read THIS in the paper)
May,  2020
HIGHLIGHTS
Covid and the market slowdown,

NOT

.
How Covid is changing Clark County Real Estate

forever

.
……………………………………………………………….
REPORT 
Buyer Activity:
We have seen buyer activity see-saw dramatically over the past 9 weeks . For 5 continuous weeks we saw steady declines in buyer activity from 3,928 visits (lockbox openings) to 1,732 visits. Then, since April 5, visits have steadily increased to a total now of 3,542 visits. Currently we are almost 400 weekly visits short (10%) of the high for the year of 3,928. 
Our listing count normally begins a seasonal increase in April. This year, oddly enough, the increase started on March. So with buyer activity increasing but still below the Fevruary/March peaks and listings showing a strong and early increase, I was growing concerned that home prices might weaken. Then the unexpected got in the way.
The monthly report for April showed that listings took an unexpected and unprecedented direction and stagnated. The listing count did not grow like usual in April.  Listings were nearly unchanged. This explains why agents  in April were experiencing strong competition for their buyers.
It was still a sellers market in April despite reduced buyer activity thanks to listings not making their usual April seasonal increase.
Much of the reduction in April listings was because new listings fell off big time. The graph shows the track of the last two years for new listings. For the count to fall off the cliff is very unusual.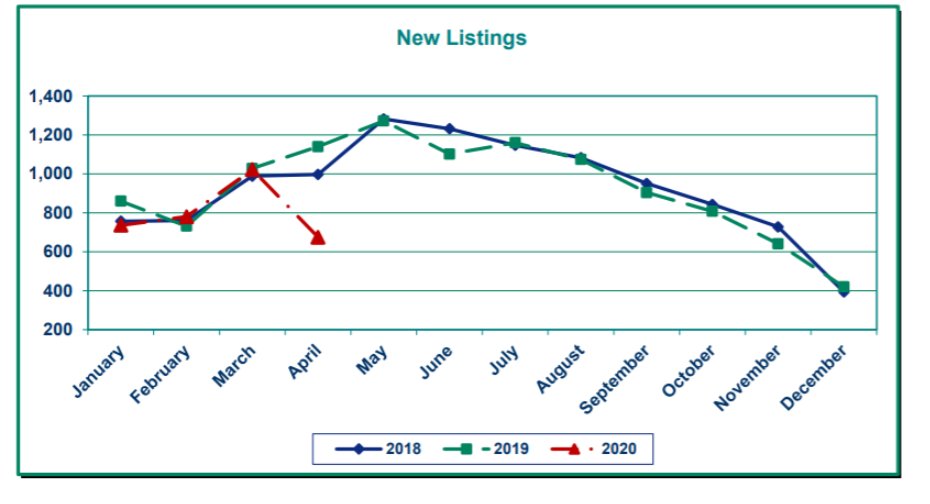 Inventory Levels:
Inventory levels weakened a bit from 2.1 in March to 2.5 in April. It is likely that buyer activity and closings will remain strong and listings may increase a bit so it is likely we will see inventory levels make  a slow return to the 2.1 level. The market feels like there is strong buyer activity and homes seem to move quickly to a pending status. I do not see a likelihood of the market weakening or home prices falling despite the presence of Covid.
Listing Count:
The total number of listings (as opposed to New Listings mentioned above)  remained nearly flat in April after an early increase in March. This had the effect of minimizing the consequences of reduced buyer activity in April. I do not see any pressure downward on home prices at this time. 
Pendings
Pending transactions fell in April by 20%. This was expected because buyer activity was so low in April. Steady increases in buyer activity should result in improving numbers in May. Agents are also reporting higher levels of showings so I suspect pendings will improve next month.
Price Reductions:  
The number of listings with price reductions increased again from 736 in March to 849 in April.  I am not sure the value of this measure as it does not match with the overall data or what agents are experiencing. 
The Average Price:
In April the average price of a home fell by $13,000. The prior month it rose about the same amount. The market is showing too much strength currently to be concerned about falling prices.
Marketing time:
Market time fell again from 63 days to 47 days as the market continues to recover.
Conclusion:
Market direction is determined by the balance of supply and demand. In April we saw the result of buyer determination. Despite challenges from Covid 19, buyer activity has returned to within 10% of its high from last March. Buyers that are out looking are more serious than usual. They have to be as the rules make showing homes more difficult. 
Buyers are still experiencing keen competition and sellers are getting strong showing activity. Covid 19 was a brief small bump in the road for our strong market and buyer activity shows no sign of letting up. If listings pick up in May (which I expect) along with the growing buyer activity then we will see a good healthy market. If listings do not pick up then we will have a severe shortage of inventory and prices will begin to rise even more quickly.
There is a general misconception that during this Covid era, it is tough to sell a home. This is what I expected but the very opposite is the case. We are still in a seller's market, at least for now. But with national unemployment at an all time high, a strong local market is counter intuitive. Let's take advantage of this great market now while it is here as who knows what the future will bring. 
Covid 19: Our world and real estate will forever be affected. 
My oldest son works in the tech industry in San Francisco. His company as well as Facebook, Twitter and Shopify have announced they will allow employees to continue to work from home after the Covid era is behind us. Many other companies in the financial and insurance industries have announced they are considering the same policies. This Covid period has helped many businesses to realize the benefits and possibilities of having employees work from home. How will this affect Clark County real estate?
My son is in Clark County now, up from San Francisco, looking for a home. I suspect he is not alone. The cost of housing is so much more reasonable here compared to the big City. $2500 a month got my son a 600 square foot  single bedroom basement place with a 1 hour commute to downtown and a much faster paced lifestyle (stressful). In Clark County the same rent would get him a 2500 square foot single family home with a 25 minute commute to Portland. Natually, working remotely he, and others, will have no commute. So you can see why many employees will be moving out of the cities to anywhere in the world. One of my son's co-workers is heading to the east side of Canada. 
Businesses will also benefit. The demand for large office space will decline. As employees head out, businesses can downsize their office needs. With all these changes will come reductions in the maintenance of city infrastructure. Traffic will decrease. Quality of life in the City will improve.
Getting back to Clark County, we will see a gradual but noticeable increase in demand of real estate in Clark County. Perhaps we are already seeing it.  Perhaps this condition is part of the strong demand we are now seeing in Clark County. Once Covid restrictions are loosened and it becomes easier to travel, we will see demand for real estate increase even further.